In the last two weeks i seemed to have brought myself a whole new wardrobe do not ask me how this has happened, it's gotten so bad that the HUGE suitcase(so big that i actually threw it down the tube escalators as it pulled me over, horrible experience :(! ) full of clothes i brought home with me for Easter has had to all be vacuum packed my clothes look like they've all melted together. Realising how many clothes i actually had today and how many I'd brought in just two weeks, remembering i still have two wardrobes full back in London and the horrible realisation when i sat down and saw i buy at least two to three new things every single week, every week has made me come to the conclusion despite everyone constantly telling me that i do have a problem, i really do need to sort out. There hasn't been one month where i haven't spent my rent on items hanging in my wardrobe since Ive been at uni.
Anyway after putting £100 worth of clothes (not merely enough) in bags with their receipts to sadly return tomorrow i have promised everyone that this final term i will be good as i want lots of summer money for my four weeks in the sun.


I will still show you some of my guilty Topshop splurges, this however should be guilt free compared to the rest of my shopping because for months and months i have not been able to find one item i like weather its a because of the dodgy shapes/prints or lengths they have been doing recently it's just been rubbish Philip Green sort yourself out! Suddenly 5 or so more items come in i actually think are worth it, therefore had to purchase :)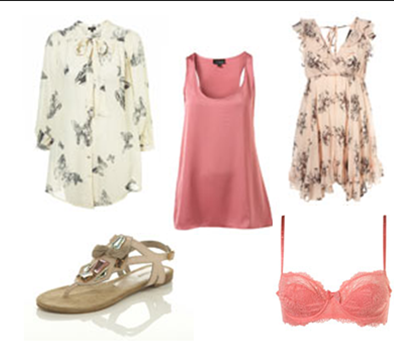 The butterfly blouse I've been wearing undone with a silk camisole dress underneath and tights (as its dress length on me). Can't wait to be on a hot beach and throwing it over my bikini.
The pink silk top is backless and would like to wear with a nude lace bralet, lots of silver charms and very high heels.
The pink dress I'd like to wear with tanned bare legs and nude wedges for a summer night.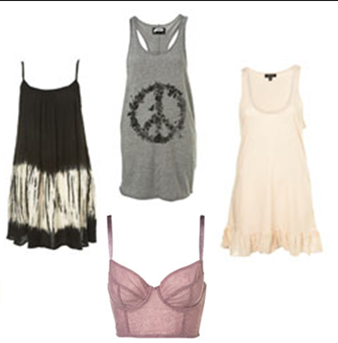 The tie dye beach cover up,
Ive been wearing as a day dress with numerous studded belts and will just wear it loose in summer.
The Peace top i wore with ripped denim shorts when we had the hot days but definitely felt too summery so for now I'll wear it with a body con black skirt until it gets hotter.
The Pale vest dress i just brought as an item i can just be thrown on for uni and wear with anything really, love the colour.
The majority of my wardrobe is black, grey, nude and blush colours maybe i should change this?
What to keep? I think i want it all...
Wish me luck, i am definitely going to need it.
♥